Alumni Corner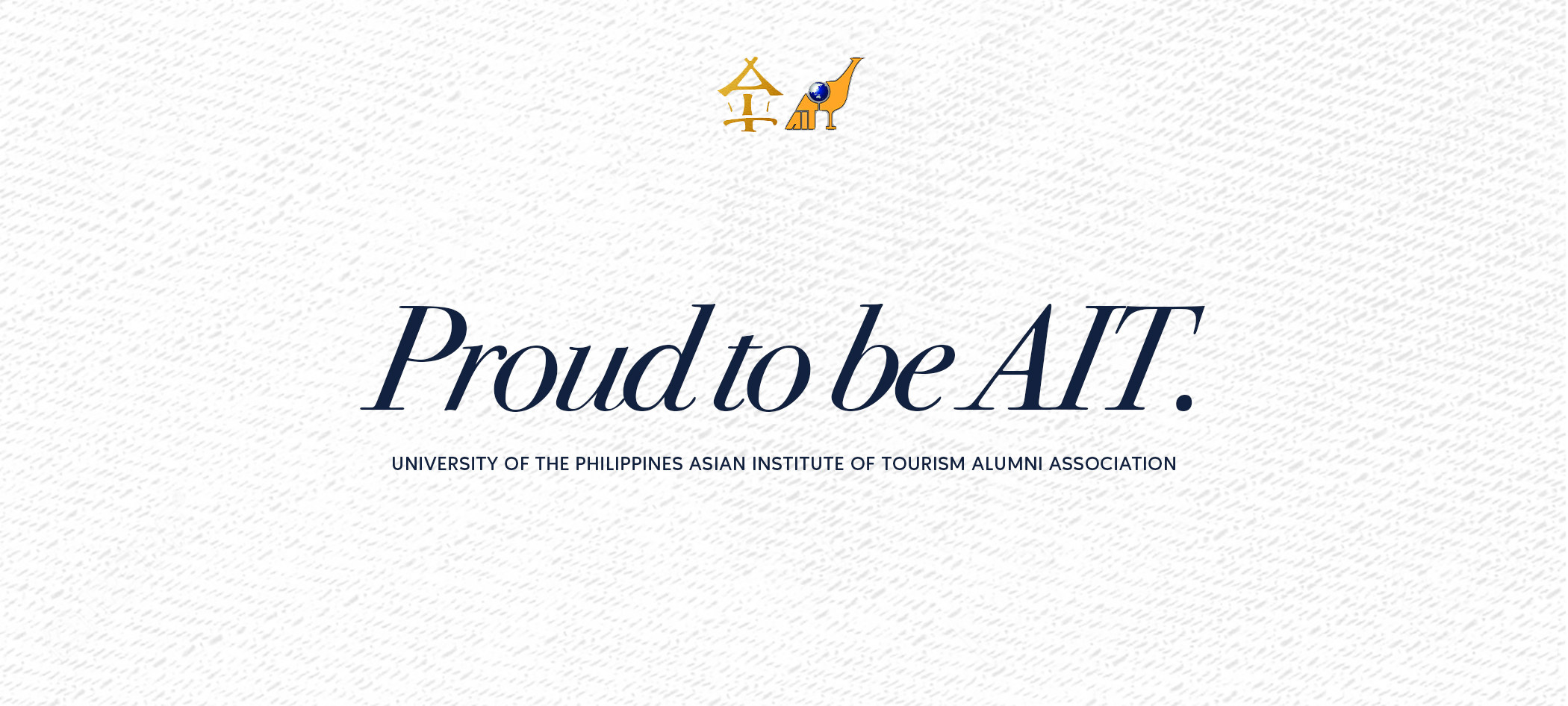 The UP AIT Alumni Association is envisioned to be a dynamic and passionate organization that is internationally recognized as a valuable resource for the development of the tourism industry.
The AIT Alumni Association is composed of graduates of the Philippines' first tourism management school, its mission is to bring together and support its members' holistic development in partnership with the AIT, in the service of the tourism industry and the Nation. The AITAA has the following goals:
To provide a venue for growth and development for its members
To strengthen partnerships with AIT through mutually beneficial and relevant programs and activities
To maximize links with various sectors of the tourism industry
Follow the official Facebook Page of AITAA and be updated on Events, Projects, and exclusive activities!
We would like to know how you are doing and how your UP AIT education has helped in your life and career so far. Answer our Alumni Tracker Form
The UPAIT AA's First 100 Days
The UP AIT Association of Alumni Inc. Board of Trustees shares with you what we have done for our first 100 days.
Preparation of AIT AA Roadmap for our term of office.
Formation of an Executive Committee and appointment of John Ponciano Almeda as Executive Director.
Conduct of an Alumni Tracer Study and Database Collection with 345 respondents.
6th Youth for Tourism and Hospitality 2021 goes international with a tie-up with Matsumoto University, Japan. Other international universities are invited as well.
Launch of Mx. Turismo 2020's advocacy on the cultural significance of Indigenous People.
Held two networking activities – Battle of Batches (June 12) and EducAIT: Networking Night for Educators (July 17).
Mentorship Program to be launched this August.
Finalization of the Membership Program with perks.
Continuation of the Educational Assistance Program (currently have three incoming 4th year students).
With more help from all you, we can do a lot more. Link up with us, share your networks, your time, your expertise and your resources. Together, we can do great things.
Your AITAA President,
Maricel G. Gatchalian-Badilla, PhD
Frequently Asked Questions
Have a question in mind? We listed down some of the Frequently Asked Questions in the graduate program to help guide you. If you have further questions not covered in this FAQ, please send us an inquiry through aitgradprog.upd@up.edu.ph
Contact Us
The University of the Philippines, Diliman is currently implementing alternative work arrangements. Please ensure to schedule and coordinate your visit in advance before proceeding to our campus.
Get in touch
Please ensure to schedule and coordinate your visit in advance before proceeding to our campus.
Location:
AIT Building, Commonwealth Avenue, Diliman, Quezon City 1101
Email:
asianinstituteoftourism.upd@up.edu.ph
Call:
(+63 2) 8 981 8500 extension #2798
AIT Directory:
Visit here